Can You Afford to Hire a Personal Injury Lawyer?
One of the questions we hear frequently from callers who have been injured is "how much does a personal injury lawyer cost?" The callers often have been jerked around by the insurance company and are desperate to know whether they can afford to hire a personal injury lawyer.
Mike Ritchie discusses how much a personal injury lawyer costs in this video:
Personal Injury Cases: Contingency Fees
Many of our injured callers are surprised to learn that the personal injury lawyers at the Ritchie Law Firm offer a completely free consultation or first meeting and handle all personal injury cases using a contingency fee agreement. This means that our law firm does not charge attorney's fees unless we win your case or get a monetary recovery for you.
The contingency fee agreement usually provides that the attorney will handle your personal injury case for a percentage of any settlement or court award. Most personal injury lawyers have a standard percentage that they charge for typical car accident cases but may have a different contingency fee agreement for more complex cases.
So what does all this mean? Basically, it means that injured clients will not have to pay upfront fees or anything out of pocket until their personal injury claims settle or reach a resolution in court.
Personal Injury Lawyers: Benefit of Contingency Fee Agreements
Contingency fee agreements can offer more benefit to an injured client over an hourly fee arrangement. Because contingency fee agreements allow personal injury lawyers to be paid an agreed upon percentage of the total settlement or court award, a personal injury lawyer is typically motivated to obtain a settlement that is beneficial to their clients. Personal injury attorneys who don't get clients what their cases are worth also cut themselves short because their lawyer fees will be lower based on the fee percentage.
The contingency fee arrangement is also helpful to the client because any potential risk of losing is shared with the personal injury attorney. If the case doesn't reach a settlement or there is no court award, the attorney will not get paid and the client will not out of pocket money on upfront expenses for their personal injury case.
Personal Injury Attorneys: Hourly Fee Agreements
Sometimes, personal injury attorneys will agree to handle a case based on an hourly fee arrangement. These types of personal injury lawyer fees are seen much less frequently than the contingency fee agreement.
With an hourly fee agreement, the lawyer sets the rate for the hourly attorney fees and then tracks the amount of time spent on the case. Often, with the hourly fee agreement, personal injury attorneys will require an upfront deposit to be used for fees and costs which is placed in a client's trust account. The personal injury attorney will move money from the deposit to pay the lawyer for time worked on the case, as well as potential expert witness fees, court filing fees and other court costs, litigation expenses, and other expenses.
With an hourly fee arrangement, when the deposit is used up and the client's trust account is depleted, the personal injury attorney will often require that another deposit be made to the account. If you are in an hourly fee agreement for a personal injury case, you should make certain that your lawyer is updating you with a schedule of hours worked and any fees paid on your behalf.
Is a Personal Injury Attorney Worth the Contingency Fee?
Because injured clients don't have a crystal ball to see everything that their lawyer does to earn their personal injury attorney fees, they may think the attorney is getting big legal fees for a small amount of work. Handling a personal injury case can be a time consuming process requiring legal expertise and strategy. Because most personal injury cases settle for higher amounts when a lawyer is involved, you can't really afford not to hire a personal injury attorney. Before a personal injury attorney receives a dime of a contingency fee payment, a good lawyer (and their staff) will work the case by doing many of the following:
Offering all of their firm's resources and expertise: A client that has a case or personal injury lawsuit handled on a contingency fee basis will have access to the knowledge and experience of the personal injury firm they hire. At the Ritchie Law Firm, our attorneys act as a team and offer advice and knowledge to all of the firm's clients on many different issues.
Investigating the Accident: After a client hires an attorney at the Ritchie Law Firm, either our attorney or a private investigator that we hire will obtain photographs, witness statements, police reports, medical bills and medical records, and other information to paint a full picture of the client's accident and injuries.
Determining Liability and Insurance Coverage: After hiring a personal injury attorney, your lawyer will review police reports and may interview the investigating police officer to fully evaluate the liability of the at-fault driver as well as whether there may be any contributory negligence. In addition to evaluating liability, the attorneys at the Ritchie Law Firm investigate to find all possible sources of insurance coverage available, for example uninsured motorist coverage, underinsured motorist coverage, medical expenses payments, etc.
Evaluating Injuries and Other Damages: At the Ritchie Law Firm, your team of personal injury attorneys will review your medical records, medical bills, information about your lost wages, and any reports about future medical costs and future lost wages to make a determination about the possible value of your case.
Negotiating a Settlement with the Other Driver's Insurance Company: After an injury victim has finished medical treatment, the attorneys at the Ritchie Law Firm will present a demand for settlement to the insurance companies. The process of negotiating a settlement may take weeks or even months depending on how cooperative the insurance company is. The negotiation phase doesn't always end in a personal injury settlement, and sometimes lawyers are forced to file a personal injury lawsuit.
Filing a Lawsuit: Because the litigation process can be very frustrating and exhausting for an injured client, the lawyers at the Ritchie Law Firm do everything in their power to try to settle the case before trial. But, sometimes insurance companies refuse to act in good faith to make a reasonable settlement offer, and a lawsuit must be filed. Often, filing the lawsuit shows the insurance company that the attorney and injured party are serious about the case and won't be pushed around by the insurance company.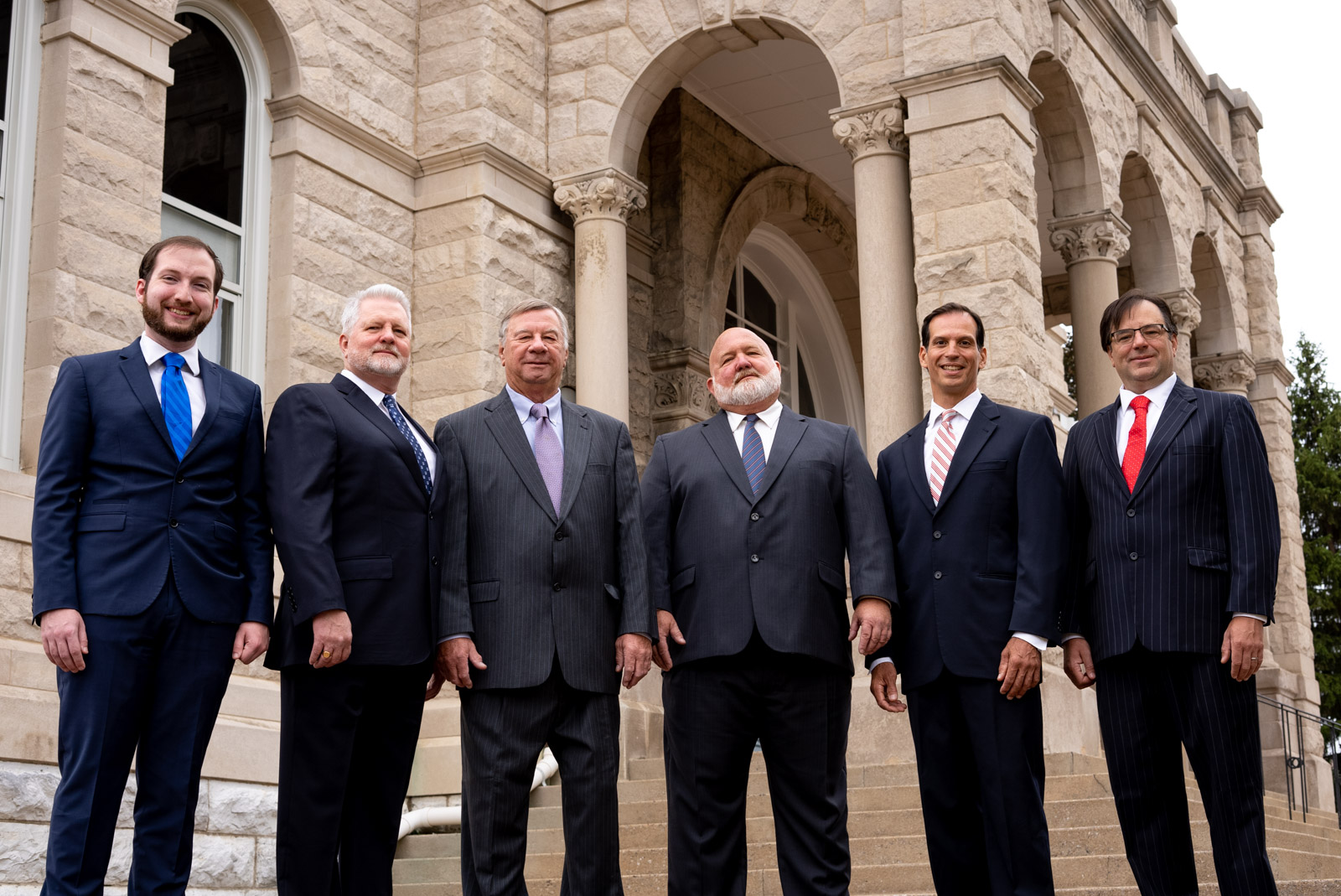 Why Do I Need a Personal Injury Lawyer?
You may be wondering if you really need an attorney after an accident. The answer is, it really depends on your individual situation. Some personal injury cases are settled without going to court. However, if the other driver denies responsibility or if the insurance company denies your claim, you may need a law firm to take legal action to get the compensation you deserve.
If the insurance company is giving you the run around, the Ritchie Law Firm is here to help. The experienced, certified personal injury attorneys at the Ritchie Law Firm will help you make them pay for their recklessness.  DON'T GET HURT TWICE!! We have helped thousands of injured people get the money they deserve.
Contact us by phone at 800-277-6124 or by using our online contact form.
Don't Get Hurt Twice!
You can talk to us for 

FREE
Call today 

800-277-6124

, fill out the

form below

or
download our free ebook in the side panel.
800-277-6124
Ritchie Law Firm is a personal injury law firm devoted to helping individuals who have suffered serious and catastrophic injuries or lost a loved one as a result of someone else's negligence. Ritchie Law Firm serves all of Virginia, while helping clients in cities and surrounding areas of Harrisonburg, Charlottesville, Staunton, and Winchester also serves clients in West Virginia, including Martinsburg, WV.
Get Your Free Case Evaluation
"*" indicates required fields